A PROJECT BEGUN ON WEB IN 2002 - THIS VERSION DATE FEB 2018

THE EXPANSION OF NORTHWEST EURASIAN BOAT PEOPLES AT THE END OF THE ICE AGE
.

by
Andres Pääbo
When the Ice Age retreated the glaciers that covered half of the northern hemisphere, melted and flooded the lands underneath. "Uirala" refers to the flooded lands, and the conversion of former reindeer peoples moving around on foot, to boat peoples moving around in the flooded lands. These projects bring forward accumulated information from archeology, climatology, geography, etc. with a specific focus on the development of the boat-oriented way of life that began south of the glaciers, and then spread around the northern world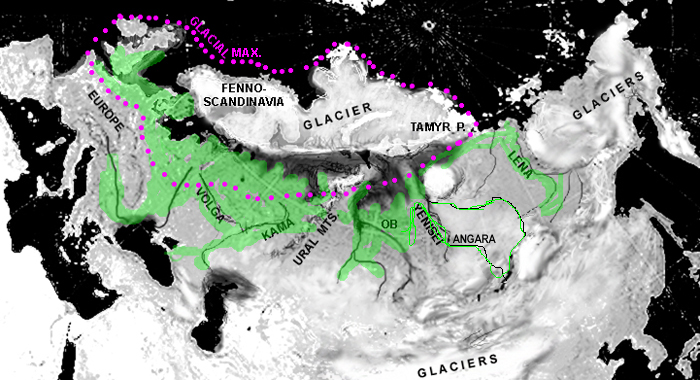 Around 10,000 years ago, glaciers half-melted, with lands to their south flooded or filled with raging rivers and endess lakes and marshes. (the purple dots indicate the original extent of Ice Age glaciers (about 50,000 years ago). Former reindeer people adapted to the new wetlands, seas, lakes and rivers, including the development of a boat-oriented way of life. Once these boat-using hunter-gatherers became established, they were inclined to enter all lowland, wetland, areas. We can think of UIRALA as the entire region suggested by green on the map.

author: A.Paabo, Box 478, Apsley, Ont., Canada
2018 (c) A. Pääbo.